1980 Audi 4000
- A fine specimen of German engineering. I'd still say German cars are perhaps the most refined there are, seeking to perfect a seemless interface between man and machine. This Audi saw its share of service, from getting stuck in the mud out back of Darren's house, to slaying deer on Route 46.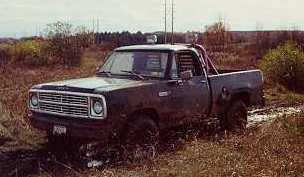 1979 Dodge Power Wagon
- Full time 4 wheel drive, 31" tires, and a 318 under the hood. This truck could get through anything without getting stuck! (Except for the mud out back of Darren's house...) This particular model of truck seemed especially vulnerable to severe rust damage.
1975 Dodge Coronet
- What started out as the family car back in 1975 and was later handed down to my brother, eventually ended up under my control. The classic big American sedan. Another 318 under the hood -- definitely one of the most reliable engines ever! By the way, that's the family '85 Dodge Aries I inadvertantly placed in the ditch in the background.
1985 Chrysler Laser
- 2.2L Turbo with 146hp. A good car for its day (recall that the mid-80's were bad car days.) The optional full digital instrumentation is reminiscent of "Knight Rider". This car has been a constant faithful companion throughout many years.
1997 Pontiac Grand Prix GTP
- The 3.8L supercharged engine (L67) puts out 240hp and has plenty of low end torque. This car has the 4T65-E automatic transmission (3.29FD, 155k Converter), which is the product I worked on while at GM. This GTP was eventually sold in order to pay my Virginia Tech tuition.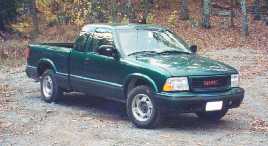 1999 GMC Sonoma
- Your basic cheap transportation. You can't beat the end of the year lease deals on these small trucks, especially with the employee discount! The 4.10 final drive makes up for some of the shortcomings of the wimpy engine.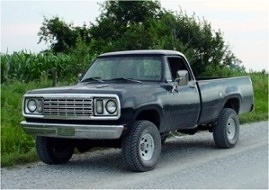 1977 Dodge Power Wagon
- This truck is a beast! Bigger tires (33") and a bigger engine (360ci) and much, much less rust than my 1979 Power Wagon! I found this truck in Arizona at a great price, and after many ordeals arranging the purchase, drove it all the way back to Michigan. See the whole story and other pictures on the Power Wagon page!!!
---